Award-winning photography since 1981
When I entered the photography business in 1981, auto-focus and digital was unheard of, everyone was using film, and struggled with manual-focus cameras. Eventually, I made the transition to professional, digital capture.

My first experience in photography came at a young age while in the sport of surfing, but it wasn't until 1981 that I turned professional. A native Californian, I have since earned several awards for professional photography and photojournalism. My images have been published around the world in hundreds of publications. In addition to photography, I have written three books on World War II (AllNavyBooks.com) and enjoy many outdoor activities such as motorcycles. My first exposure to drag racing came at Lions Drag Strip (NHRA) in Wilmington, California, around 1964. I later raced a '55 Chevy at OCIR, Orange County International Raceway, in Irvine, California. Raised in a power-boat family who spent nearly every summer water-skiing, it seemed almost second-nature to take interest in drag boat racing. And so in 1981, I did turn to the exciting sport and became deeply involved.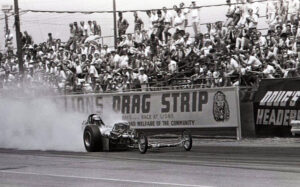 Above: Lions Drag Strip, Wilmington, California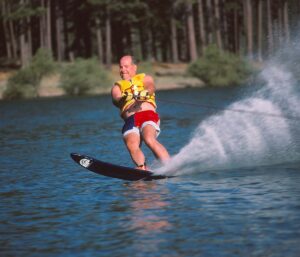 Above: Water skiing at Bass Lake, California
Above: With Powerboat Magazine photographer Jim Welch (left), at the IHBA World Finals, Firebird Lake, Chandler, Arizona, November 1986.
For nearly 15 years, I was the unofficial historian for the IHBA (International Hot Boat Association). Many of my race stories and photographs appeared in countless publications including; National Race Boat, Hot Boat Magazine, Trailer Boats Magazine, Powerboat Magazine, National Drag Boat, IHBA's the Liquid Quarter Mile and others. I also covered circle boat, K-boat and Unlimited Hydroplane races, and did various work for the APBA (American Power Boat Association). Following the 1986 drag boat season I produced a high-quality full-color drag boat poster, "The Liquid Quarter Mile." Five years later in 1991, followed it with another classic, "The Liquid Quarter Mile – Part 2." Both can still be purchased right here on this website.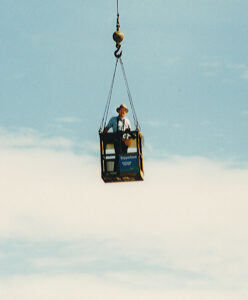 Above: In a crane basket, high above Firebird Lake, Chandler, Arizona.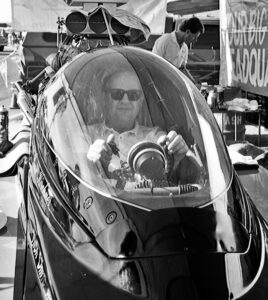 Above: Inside the cockpit of Dean Kirchner's, top alcohol hydro, "Blown Crazy" at the IHBA Winter Nationals, Firebird Lake, Chandler, Arizona.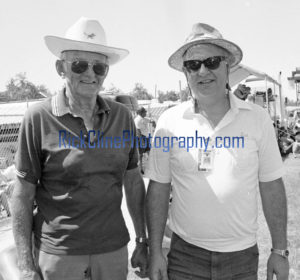 Above: With the late drag boat photographer Jack Cool (left), at Chowchilla, California, July 1993.
As a photojournalist, my work has been published around the World in Europe, Australia, Germany, Japan, the UK and many other countries. Here in America, I've worked for and sold photographs to UPI (United Press International), the AP (Associated Press), the National Enquirer, the Star, the Globe, more newspapers and magazines than I can remember, including the Los Angeles Times and the Orange County Register. In the 1990's, I worked with ESPN as their technical advisor for TV productions.
For about 15 years, I owned a photography studio in Anaheim Hills, California, and serviced many (non-racing) clients with studio, and industrial photography. My photography career is not over, I am now located in sunny, Yuma, Arizona, and will continue with this exciting adventure.
A special thank you, to all the wonderful people who posted and shared their kind thoughts on social media, about me and my work. See Customer Reviews page. Your gracious words, help keep me going strong, God Bless all of you!
"There are no rules for good photographs, there are only good photographs."
― Ansel Adams
"I tend to think of the act of photographing, generally speaking, as an adventure. My favorite thing is to go where I've never been."
― Diane Arbus
"The single most important component of a camera is the twelve inches behind it!"
― Ansel Adams
"It is no accident that the photographer becomes a photographer any more than the lion tamer becomes a lion tamer."
― Dorothea Lange

"Your first 10,000 photographs are your worst."
― Henri Cartier-Bresson
"Sometimes I arrive just when God's ready to have someone click the shutter."
― Ansel Adams
"The whole point of taking pictures is so that you don't have to explain things with words."
― Elliott Erwitt